About Us
BAODING ZUNSHI IMP.&EXP.TRADING CO.,LTD is a quarry owner, professional manufacturer and exporter of different kinds of natural stone stone tiles and other stone for home .such as slate,quartzite,sandstone, granite, etc , located in Yi country ,baoding city , hebei province.
We have advanced production technology and skillful workers, our offer you all service in natural stone business , such as culture stone , slate tiles , cement culture stone , meshed pavings , flagstone , stone mosaic , stone mortar, stone coaster and so on.
We have been rich experience in selling stone material to all over the world. Our goods have won the highly praised as customer superior, considerable price and excellent after-service.
We are looking forward to assisting you with your natural stone product needs. With the endless pursuit of the highest quality and customer satisfaction, we will continue to make our best efforts to be your best choice.
more about us
Installation Instruction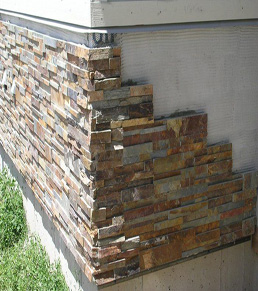 Step 1: The substrate should be structurally sound, clean, dry and free of debris.
Step 2: Select a 90 degree corner as a starting point and "parge" the substrate with mortar using a notched trowel. Make sure the corner pieces are cut at varying lengths at each course, which will create a "staggered" bond and greatly reduce the appearance of vertical "seams" when the wall is complete. Step 3-4: Apply mortar to the back of panel using a notched trowel and press it rmly to assure proper adhesion and no voids. A rubber mallet works well to achieve proper adhesion to the substrate. This will create a "lead" corner. Work outward in both directions until a rst course has been built, periodically checking for level. Step 5-6: Continue the above steps until the desired height has been achieved.
View More